Hey all, as some of you may be aware, I run a Fantasy F1 site. I built it a couple of years ago and we are about to enter our 4th year.
I'd love it if you lot would enter and play, I'll even be providing a prize for the winning manager in out F1XL mini league.
You can register at the moment, however picking your team won't be possible for a week or so. I need to get a bit of a feel for the pace of the teams so the pricing is somewhere near right.
It works a bit like this, you pick 2 drivers, a chassis and an engine. Then after week 1 you can develop your team, this is what makes GP Gaffer better than anything else out there. You get time credits, one for each week between a race which you can spend on changing elements to your team or playing points boosters on elements in your team. If you choose to do neither of these, you spend the time with your sponsors and t gain money to use later in the season.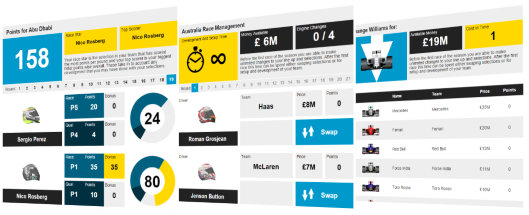 Pretty awesome I hear you say, yes indeed.
Here are some links to how the scoring works, and how you manage your team from week 2:
https://gpgaffer.com/rules
https://gpgaffer.com/how-to-play
Sign up now and you will hear first when you can pick your teams.
Oh P.S. if you signed up last year there is no need to do it again